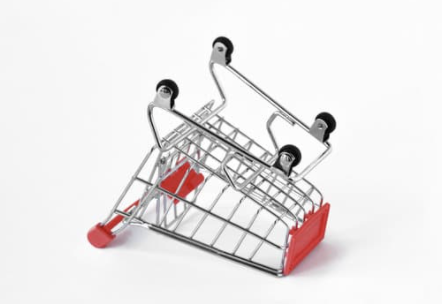 Cart Abandonment
One of the most frustrating things that can happen to your online store is cart abandonment. 
Why does this happen? Can you imagine if you had a bricks-and-mortar store and you noticed a shopper picking something they like, deciding they want it, and as they are walking to the cash register to buy, they leave the product halfway and walk straight out of your store? You would be mortified and scratching your head as to why this happened. 
Do you know how to check your cart abandonment data for your online store? It's rather easy, and it is all in Google Analytics, provided you have set it up correctly. 
A survey by BigCommerce asked "Have you ever backed out of completing an online purchase because the check-out process was too frustrating?" and a STAGGERING 79% (not surprising though) answered YES. 
What does your checkout process look like? Do you do/have any of the following in your checkout process?
Asking for information twice, such as email and then having to confirm that

Having to re-enter credit card info

Having to login twice
Do not overload the checkout process by asking for information that you do not need. 
Another example of this is coupon codes if you do not provide coupon codes. That is another sure way to cart abandonment. 
Simplifying the checkout process is imperative. Go through yours not like a business owner but as a shopper 
Contact us to find out more about this